You may have already read that our wet food meals bring 100% food-grade quality to the bowl. The standard of Dog's Love food preparation is so high that it meets the same criteria that apply to human food. So you are welcome to taste as well!
FOOD & ANIMAL FEED


THE DIFFERENCE


We get nutrients and energy from our food. Some of these are substances that are necessary for survival. But there are also luxury foods that we choose to consume because of their taste or effect. Basically, everything that is suitable for human consumption, whether in raw or processed form, counts as human food.

Animal feeds are specially tailored to animals. It is about species-appropriate feeding, which corresponds to the species and their living conditions. Whether pets, wildlife or livestock, our friends' nutritional needs are different from ours. Animal feed does not belong to the human food group, but can very well be produced in food-grade quality.
WHAT DOES


FOOD GRADE
MEAN


Food-grade is the condition of a food product measured at different points. One of them is freshness, it must not be spoiled or infected by pollutants under any circumstances. Another is the ingredients used, which must be intended for human consumption in their entirety. Then subjective criteria come into play, probably the best known being taste.

Consequently, food-grade quality is defined differently depending on the product, but always refers to the characteristics of the product in relation to its destination and the legal requirements as well as consumer protection.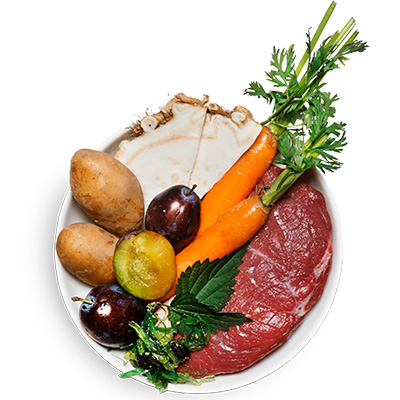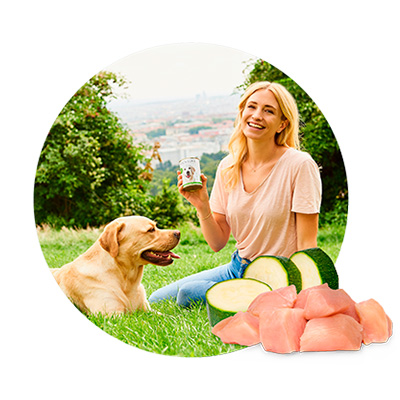 DOG'S LOVE BRINGS


FOOD-GRADE DOG
FOOD TO DOGS


In plain language, this means that we meet all quality requirements for food in the production of our dog food – according to national and European guidelines. For us, product safety is more than just a question of producing food for four-legged friends. The freshness of the ingredients, the selection of high-quality ingredients and the expert preparation of our meals guarantee the highest level.

We are registered with the Austrian Federal Office for Food Safety (BAES).

Our feed production in Styria bears the 'Austria Bio Garantie' seal, as well as the 'IFS Food' certificate. 'International Featured Standards Food' is awarded exclusively to businesses that comply with all legally prescribed regulations for foodstuffs, both nationally and in the EU, and can prove this in regular inspections.
TASTE AS A SIGN OF QUALITY


SAVING THE BEST TILL LAST


When preparing our dog food, we take special care that the composition of ingredients promotes the health and well-being of our furry friends. Another indication of food-grade quality that should not be underestimated is taste. As we all know, that's open to debate. However, our four-legged tasters have all had the same opinion so far: It tastes excellent!