Dog food containing insects – sustainable, high-quality, protein-rich
Worldwide, 2 billion people regularly consume insects. In some countries, they are considered a choice delicacy. Insects shouldn't be discounted as a source of food. Either for us humans or for our dogs.
What still feels like a novelty in the EU is slowly but surely finding a foothold here – under strict conditions and with clear labelling of course. For our dogs, insect protein in their food is indeed an ideal supply of protein: easily digestible and from sustainable production.
Insect protein in dog food – a real superstar
Our furry friends are omnivores and need a balanced, protein-rich diet. Protein consists of a lot of different amino acids, eight of which are essential for our pets. This means that your dog must get them through their food, as they cannot be produced by the body itself. What's special about insect protein is that it has a complete amino acid profile, i.e. it contains all eight amino acids essential for dogs.
The most common insects used in dog food are crickets, mealworms and black soldier flies. At DOG'S LOVE we have chosen the black soldier fly for our insect protein. In our Dogs for Future line, it provides all the essential amino acids, plus unsaturated omega-3 and omega-6 fatty acids, vitamins and minerals for a healthy and optimised nutritional supply.
Edible insects are especially well-tolerated
Another advantage of insect protein is that it is entirely natural. It is free from hormones and antibiotics, therefore free from harmful substances that can often cause problems. Since insects are still considered a rare source of protein for dogs, "diseases of civilization" such as food allergies have not had time to develop yet. Therefore, edible insects very well tolerated by most dogs with an allergy, intolerance or sensitive stomach. Insects also have a positive effect on digestion. A study by the Institute of Animal Nutrition at the University of Veterinary Medicine Hanover found that the digestibility of edible insects is similar to that of chicken meat, but that raw fats from edible insects can be processed even better.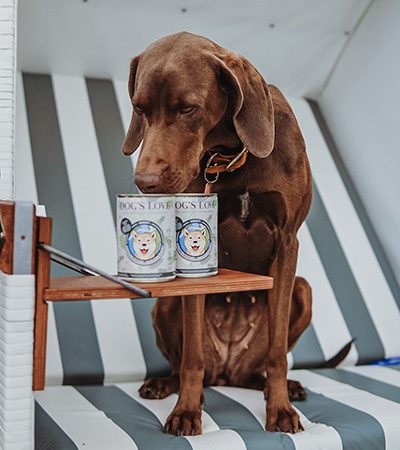 Dogs for Future - together for climate protection
Dog food with insect protein is not only a blessing for our pups, but also for the environment. The production and processing of edible insects is extremely efficient and sustainable, as insects require less land, less feed and less water compared to traditional grazing animals. There is also no soil pollution by ammonia. And CO₂ emissions are reduced to an absolute minimum during the production of the edible insects.
All these criteria also come into play in the production our Dogs for Future products. They are produced in Austria in a resource-efficient and sustainable way and set an example for a shared, sustainable future.