Herbs in dog food - support from nature
Most people who have a dog do a lot of walking in nature. On our walks through the flora, we sometimes forget that it is not only the fresh air that is good for us and our four-legged friends. Many herbs contain healthy nutrients and can prevent or alleviate many ailments.
Dogs need a balanced diet that meets all of their needs. Herbs with their variety of vitamins, minerals, essential oils, flavonoids and tannins can bring a valuable addition to dog food.
Herbs - natural vital food
We have known for a long time how valuable herbs can be for our vitality, our health and our general well-being. This power is also harnessed by wild wolves.As a food supplement, they instinctively consume fresh herbs, seeds or flowers. Our dogs have inherited this behaviour from their ancestors. You have probably seen your furry friend nibbling on a few young blades of grass with pleasure.
Herbs are full of healthy nutrients that can have a beneficial effect on the immune system, digestion, metabolism and general health. As such, they provide an ideal complement for dogs of all ages. Our DOG'S LOVE herbal mixtures have been specifically adapted to the needs of our four-legged friends and can be added to the food from the4th month.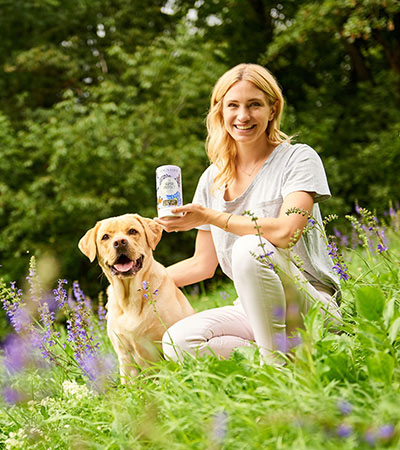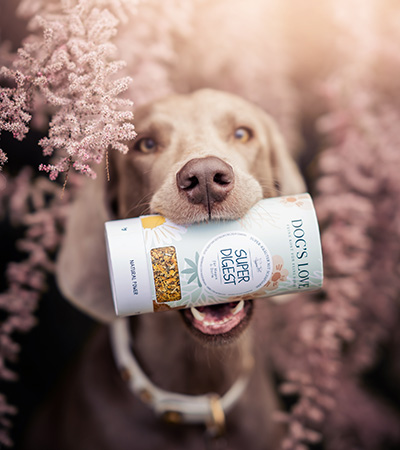 What can herbs do in dog food?
Many herbs are part of the group of medicinal plants. This means that apart from the positive aspects that the nutritional composition of the plants brings, they can help prevent or accompany known dog ailments. Their vitamins strengthen the immune system. Some herbs can have a deterrent effect on ticks and parasites. Some plants support the nervous system and soothe from within. Others are particularly helpful for metabolism or for the cardiovascular system.
Our herbal mixture Super Power with echinacea and black cumin seeds,for example, promotes metabolism and strengthens the immune system. The Super Digest blendwith yarrow and calamus root has a positive effect on the gastrointestinal tract, while the Super Shine blend with sea buckthorn berries promotes a shiny coat. Super Protect with cistus and wormwood can help build up natural protection against ticks and parasites.
Which herbs can I feed my dog and when?
In principle, the right herbs in the right dosage are a blessing for your pet. But at the same time, this means that not every herb is compatible. Some wild herbs are even poisonous for dogs! Please obtain information in advance or seek advice.
The easiest way is to mix the herbs you choose is directly into the food. Always dose the herbs in such a way that your furry friend can slowly get used to them before you increase the dose. Suitable herbs can be administered for special care in between as well as permanently. For example, the Super Calm blend can be a valuable support for many dogs in the weeks before and after New Year's Eve. However, should your dog need a little help for more calmness during the year, you are welcome to feed the mixture permanently for the well-being of your furry friend.
We recommend giving a maximum of two herbal mixtures at the same time - one in the morning and one in the evening. As is so often the case, "too much of a good thing" is not advisable here as the nutrients can otherwise only be absorbed to a lesser extent.
Please also bear in mind that natural nutrition is intended as a complementary support. If your pet is sick, always seek veterinary advice.